Posted: 27-02-2014
And there it is.
Origami Shark
on the loose on Hackney Road, London. Really pleased with it.
My most realistic paper folds to date.
Space provided by
Art Under The Hood
project.
Also below, my first attempt at a long exposure night shot with my new camera Sony Nex-6.
Posted: 27-02-2014
A bit of conceptual piece.
4D
. Probably the best rubbish bin painted ever by
Irony
!
Origami Fox
on the right, of course.
Posted: 06-02-2014
On the prowl. When I howl, I only howl to an Origami moon. Nine hours on the ladder.
Inspired by
Atmosphere
, Became, from Family Sign LP
"With no sign of death, no sign of struggle
No signs of blood, no signs of trouble
And the wolves never stopped
The tracks kept going and I took off
So I don't know how your story ends
But I know I'll never go into those woods again."
Posted: 28-01-2014
★★★ I Came Here To Riot! ★★★ As predicted, the new theme is unfolding rather nicely. Origami Moose Trophy. 10 hours in the the making. The most complicated and layered piece to date. Leake Street.
Posted: 15-12-2013
We have been invited by
The Real Art of Street Art
to paint a 9x3m spot at
Camden Lock Market
.
After some brainstorming
IRONY
and I came up with this concept of
Battle of Styles
.
Really pleased with my
Origami Unicorn
battling a superb character by Irony. Gotta love the battle cone!
#OrigamiRiots
Posted: 28-11-2013
"Whatever You do. Always go up!"
- The beauty of an analog film by
Silver Mikiver
at Southbank Centre. (top & bottom pics)
Posted: 18-11-2013
Let Us
/s/PRAY -
Oh, come all ye faithful! "The Enchanted Cathedral" awaits. Your false prophets need you...
Two days' work form dawn to dusk at Stockwell HOF. Tired but pleased with details.
Really enjoyed putting work in the background. That's the perspective I exactly aimed for.
#OrigamiRiots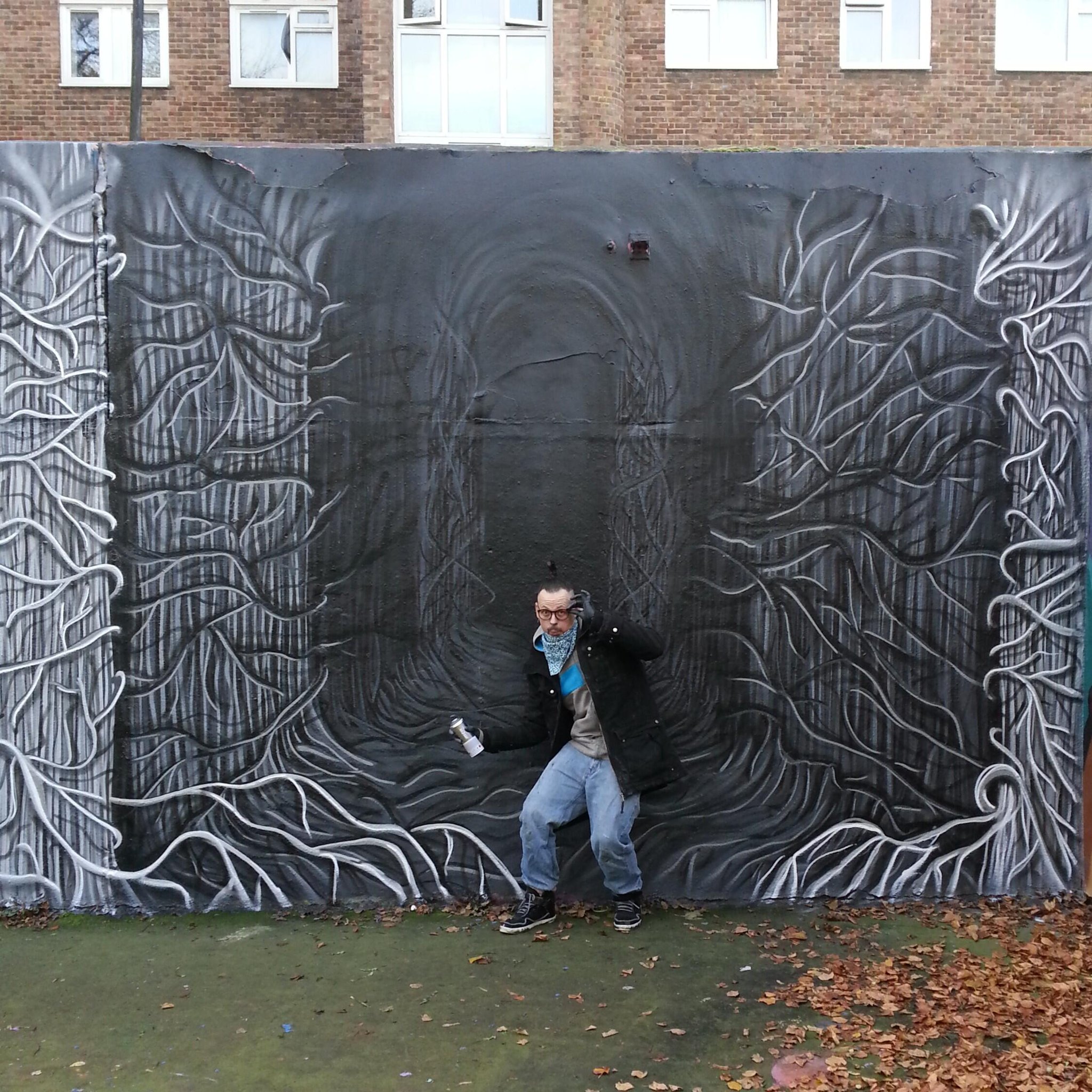 Posted: 06-10-2013
Leake Street Sumday sessions. Glad I pulled it off with scraps! Can you name some of the star constellations of the Northern Hemisphere here?
Photo by Malcolm Quiney.
★★ #YearOfThePaperPlane ★★